Biography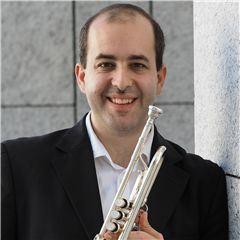 In 2003, a year before completing his schooling, he carried off the second prize at the renowned international music competition of the ARD broadcasting network in Munich and was the joint winner of the Maurice André competition in Paris, after having won other important contests, such as the Prague Spring Festival (2003), the Timofei-Dokschitzer-Competition in Vilnius (2002), the Concertino Praga (2001) and the Tchaikovsky Conservatory Competition in Moscow (1997). In addition, he was awarded European Culture Prizes in Munich in 1999 and in Berlin in 2002.
Giuliano Sommerhalder studied with Pierluigi Salvi at the Conservatorio "Giuseppe Verdi" in Como and with Max Sommerhalder at the Detmold College of Music. He also gleaned important stimulus from Maurice André, Eric Aubier, Stephen Burns, Edward Carroll, Hans Gansch, Pierre Thibaud, James Thompson and others.
He played in Claudio Abbado's Orchestra Mozart in Bologna in 2004, was chosen by Lorin Maazelas solo trumpeter for his Orquestrade la Comunitat Valenciana, and since 2006 has been solo trumpeter in the Leipzig Gewandhaus Orchestra under Riccardo Chailly and a member of the brass quintet Italian WonderBrass. From 2011 on he is appointed as solo trumpeter with the Concertgebouw Orchestra Amsterdam. In 2008 he was accepted into the BBC Radio 3 New Generation Artists scheme. As a soloist on both modern and historical instruments, Giuliano Sommerhalder has appeared throughout Europe, in America, Australia and Asia.
Giuliano Sommerhalder is Yamaha Artist.