Biography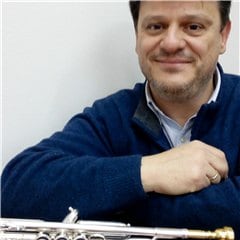 Ioannis Karampetsos began studying music at the Philharmonic Society of Lefkas island (his home town). He continued at the National Conservatory of Athens and after completing his studies he went on abroad in Germany at the renowned Trompeten Akademie Bremen, with professors Bo Nilsson, James Thompson and Thomas Stevens. He has attended seminars and trumpet courses with: Paul Archibauld, James Watson, Fred Mills, Anthony Plog, Adolph Herseth, Reinhold Friedrich and Pierre Thibaud. He has collaborated with all the major orchestras in Greece, and has appeared as a soloist with most of them.
In chamber music concerts he has collaborated with world class artists such as Allen Vizzuti, Vince DiMartino, David Ohanian, Roger Bobo, Enrique Crespo and Scott Hartman. He has made several first performances in Greece, playing works of the international repertoire for the trumpet and has participated in several recordings. For the years 2003-05 he held the position of principal trumpet in the Orchestra of Nations, which appeared in major theaters of Germany, Wales, Ireland, England and has toured in South Africa and China.
Since 1994 he has been principal trumpet player of the Athens State Orchestra and a member of the Athens State Orchestra brass ensemble «Metallon». He teaches at the Orfeion Conservatory of Athens, the Conservatory of the Polyphonic Choir of Patras, the Pancretan Conservatory of Heraklion - Crete and the Ionian Conservatory of Corfu.